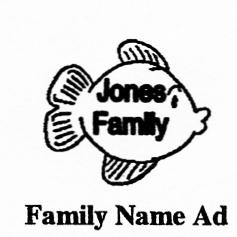 The Borough of Rockaway Historic Committee is sponsoring a Fish & Ships dinner at Thomas Jefferson School to benefit the Rockaway Borough Museum on Friday October 15, 2010 from 5 to 7 PM.
You can purchase your tickets from a Historic Committee member or at the museum on:
October 9 from 11 AM to 1 PM

October 10 from 12 to 2 PM

October 13 from 4 to 6 PM
All tickets MUST be purchased by October 13 (fish is purchased the day of the event).
For more information call Joan at 973-625-3768. Click here for Dinner Placemat Sponsorship information (PDF).
Prepared by Tastefully British
Friday October 15, 2010
5:00 PM - 7:00 PM
(Take Out Available at 5:30 only)
Thomas Jefferson School
95 East Main Street
Rockaway, NJ
Dinner includes fresh cod filet (chicken filet available on request)
with french fried potatoes, cole slaw, beverage, and dessert.

Adults (12 and up)

Children (5-11)

Children 4 and under

ALL TAKE OUT

$12.50

$8.00

$2.00

$12.50
Fish is purchased fresh for each event so only a limited number of dinners will be available
for purchase at the door at a more expensive price.
For more information call Joan at 973-625-3768.
Dinner sponsored by the Borough of Rockaway Historical Committee
All proceeds to benefit the Veterans Honor Roll and the Historical Museum